The vineyard
First planted in 2019, the vineyard has now expanded to cover 6ha with just over 20,000 vines in the ground. The vineyard is North-South facing on a flat to gentle slope at an old farmstead in the heart of the East Anglian Stour Valley. It sits at 60-80 metre altitude and benefits from a gentle south-westerly Atlantic breeze, as well as the dry and sunny summers known to the region.
The soil is a mix of clay and loam, which together makes for powerful and voluptuous wines. A deep clay subsoil retains precipitation and minerals and can be a saviour to grapevines in dry times. Some say that clay imparts a profile to wines that is similar to the texture of clay itself i.e. thick, round, and generous. Other wine regions with clay-loam soil include Napa, Shiraz growing Barossa and North-East Pomerol.
We have a wide variety of grapes in the vineyard. Chardonnay and Pinot Noir have the majority spaces, however we are also experimenting with white varieties, Pinot Gris, Riesling and Bacchus, and red varieties, Acalon, Pinot Meunier and Gamay, all grown for the purpose of producing a range of tasty still wines.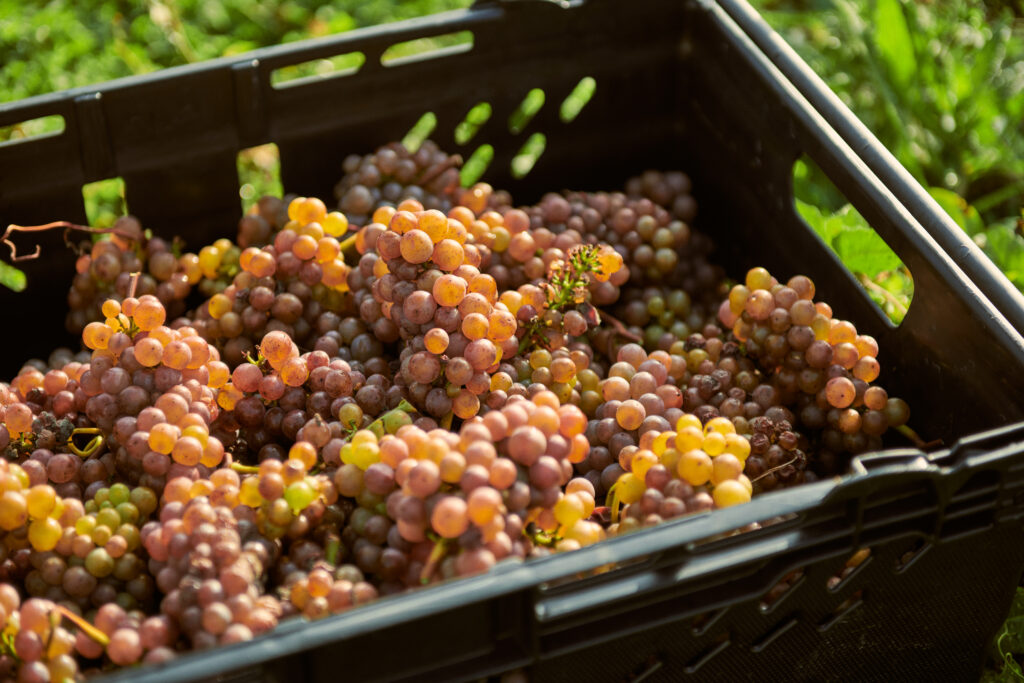 The winery
Once the grapes have been picked by hand they are taken straight to our on-site winery where they are sorted, processed and made into wine. We've never been shy of trying new things and we love to experiment with different methods and blends to get interesting results. One example is our Ripasso Noir, which is made by drying Acalon grapes on straw before fermenting and then blending with Pinot Noir. The drying process concentrates the sugars in the grapes, increasing potential alcohol and body, which when blended with the lighter Pinot Noir, makes for a distinctively warming red. Try pairing with game, pasta ragu or aged cheese. Or in front of a roaring fire on a cold winters day.
We use stainless steel tanks for fermenting and then transfer to barrels to age – we don't have a set amount of time for ageing, but regularly taste the wine to know when its ready. Once we feel the wine has had enough time, we blend (if blending) and then bottle. The wine is unfiltered and unfined, but racked as finely as possible. This does leave a haze or sediment in the bottle, however we believe it benefits the aromas and flavours and allows for the wine to truly develop with age.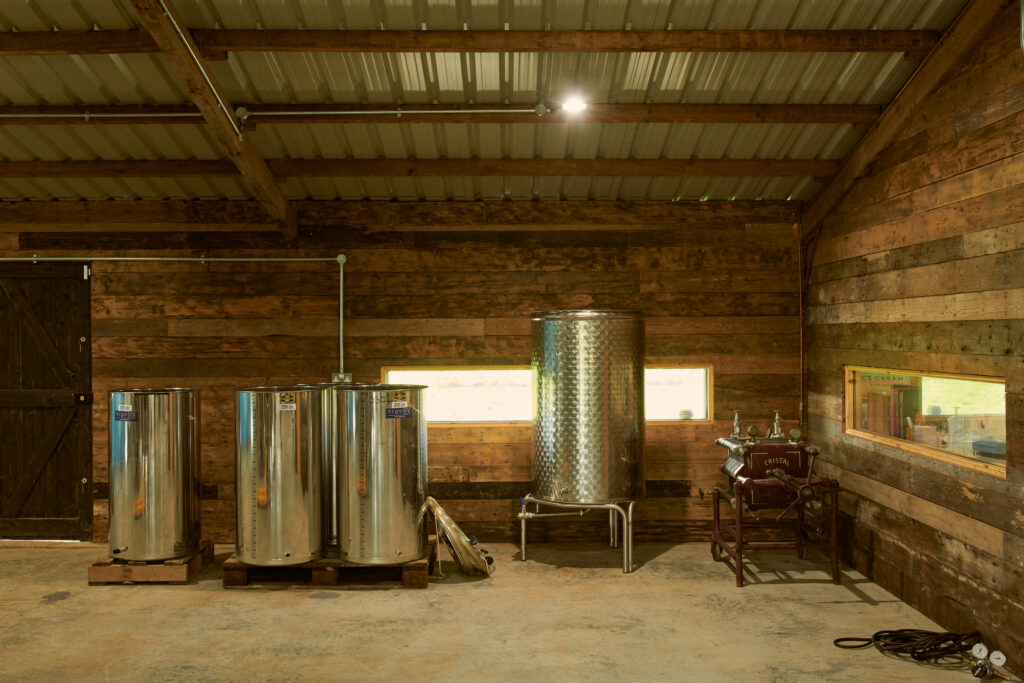 Our family
Over 20 years ago, we uprooted from Sweden and moved to the UK where we now call home. Mount Farm was discovered by Hans and Kristin in 2018 when they fell in love with the area and were looking for a barn to develop for their forever home. It also happened to have potential for a vineyard, and Hans, forever looking for his next adventure, took the plunge with daughter Amanda and started Mount Farm Vineyards. With no farming or viticulture backgrounds, Amanda enrolled to Plumpton College where she studied Wine Production, gaining invaluable skills and knowledge to go alongside the project of starting a vineyard from scratch. Four years later and after a lot of hard work, blood, sweat and tears (and laughter), we are now expecting our first 'real' harvest.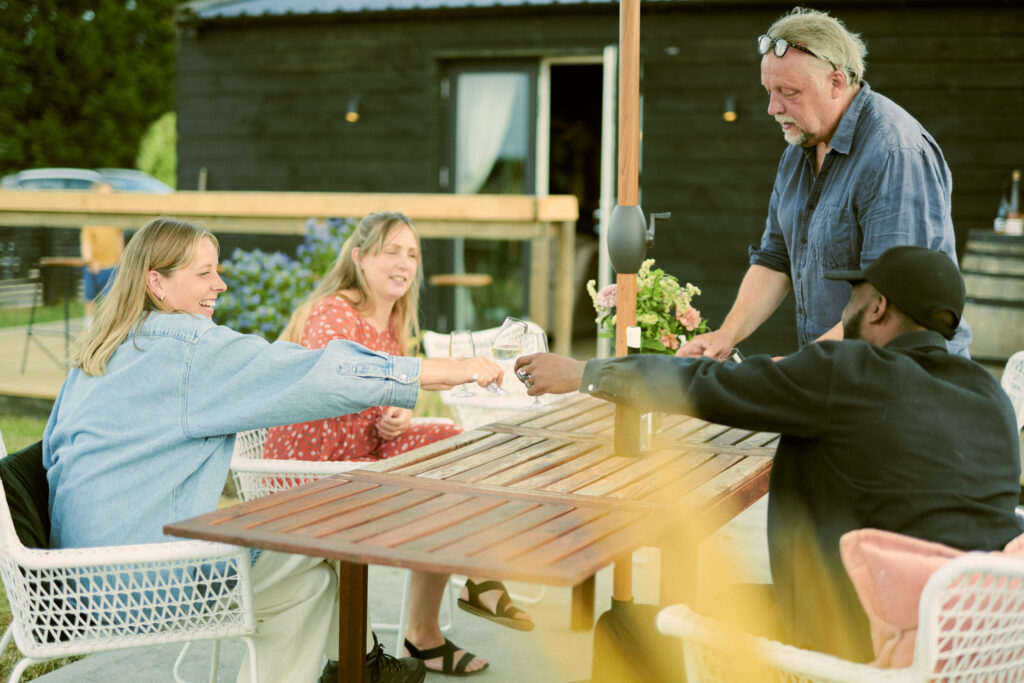 Sustainability
Our ethos has always been to be sustainable and to have as little impact on the surrounding wildlife and plants as possible. We are working on using only organic or sustainable plant protectors, in order to restore soils and encourage a diverse eco system.
We are also making changes to reduce waste and energy. Making wine uses up a lot of water, so to off-set our usage, we have drilled our own bore hole and any waste water is treated and back into our man made reservoir.
As well as this, the winery roof is home to 58 solar panels which now supply 20kw of power a day to the winery building, including three heat pumps for climate control, two car charger stations and part supply of the neighbouring residential buildings. We also now run a large part of the vineyard machinery on battery charged by solar, and intend to extend this in order to enable us to cut any fossil fuel use on the vineyard.
Our low impact approach on farming will ensure that we can grow grapes and make wine for years to come with as little effect on the environment as possible.